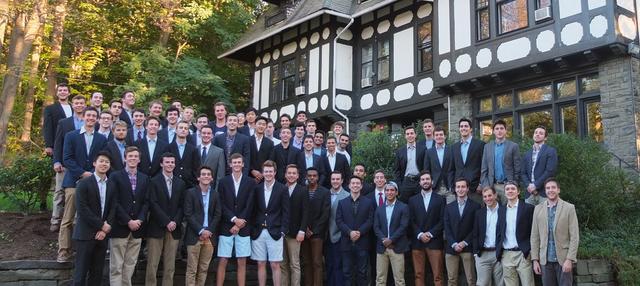 Lambda Chi Alpha leads by example and precept. We excel on the social calendar and the intramural fields, we take pride in our traditions and high ideals, but above all, what makes a Lambda Chi is his devotion to his brothers. We live our open motto, Vir Quisque Vir: Every Man a Man.
Current officers and executive committee members of the active chapter.
Joining the fraternity of honest friendship, and information about our recruitment process.
The basic expectations, rights, and duties of a good Lambda Chi.
Activities and Programs
Brotherhood Activities

Whether it's a day of paintball involving the whole house, working out in our in-house gym, or taking in a movie with just a few of the guys, Lambda Chi works together, plays together, and lives together. Living together with your best friends is an experience second to none, and with the recent renovation of Edgemoor every brother is able to live in. Regardless of our busy schedules and our different interests, all brothers come together nightly for dinner— as we have every night for over a century.

Philanthropy and Campus Involvement

For over twenty years, Lambda Chi has sponsored the North American Food Drive, raising food for the needy in the Ithaca area, as well as blood drives with the Red Cross, and an annual sweater sale to benefit the Finger Lakes Alliance for the Mentally Ill. Lambda Chi also strongly supports philanthropies sponsored by Cornell's diverse sororities.
You will also find Lambda Chis in every kind of club, organization, and publication around campus, from the InterFraternity Council to community service groups, from the Daily Sun to varsity athletes.

Social Program

Lambda Chi sponsors a diverse and active social program, ranging from our signature events like the Foam Party and the White Rose Formal to mixers with the full range of Cornell sororities and many smaller events.

Athletics

Lambda Chi is active in intramurals, local sports leagues and clubs, and has many brothers involved in Cornell athletics. Many brothers are involved in club sports, including Cornell Barbell, which was founded by a Lambda Chi, and we have had a strong presence in alpine ski, soccer, and hockey among others.

Scholarship

As Cornell students, we learn to balance work and play. Lambda Chi enjoys a GPA higher than the Cornell fraternity average, and our new house provides elegant new study lounges like the first floor Learning Center. Our national offers several scholarships, and many Cornell Lambda Chis have accomplished great things in business, medicine and science, the arts, and in public and university service.
Special Programs
Information about the fund established in memory of Bro. Matt Omans '10.
Information about the scholarship established in memory of Bro. Michael Helwig '89.
Information of interest to our parents and families.