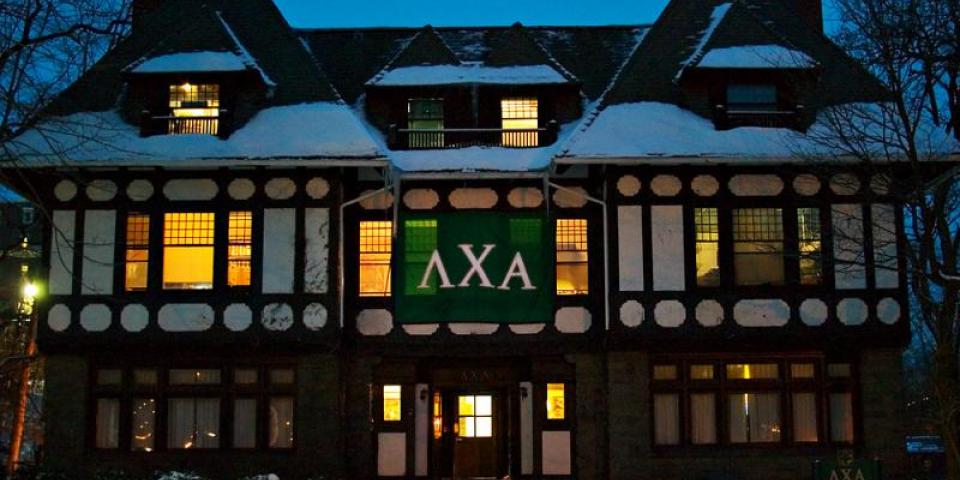 Lambda Chi Alpha makes its home at 125 Edgemoor Lane, a magnificent Tudor overlooking Cascadilla Gorge. "Edgemoor" is home to every undergraduate and alumni brother; it is longstanding chapter tradition that every brother live in the house for at least two years.
In 2015, the chapter completed the first phase of a $2.8 million renovation and expansion project which added new living spaces and upgraded the infrastructure and safety systems to bring the fraternity house into the 21st century. The project was the biggest renovation project for a privately-owned fraternity house in Cornell history.
About Edgemoor
Purpose-built as a fraternity house, Edgemoor was completed in 1896 and has undergone several major renovations and expansions since then as the chapter has grown. Lambda Chi purchased the property in 1921 and has occupied it continuously ever since, except for a hiatus during World War II when it was leased to the U.S. Navy to house trainees. It is believed to be the largest Lambda Chi Alpha house in the Northeast.
Edgemoor's signature spaces include the two-story Ashley Reading Room and the Cascadilla Gorge deck, added in the 2014–15 renovation, the historic Wilhelm Chapter Room, and the beloved Gazebo overlooking the gorge and waterfall.
The Campaign for Omicron Zeta
The Campaign for Omicron Zeta was launched in 2013 at the chapter's Centennial Celebration, with over $1.4 million in pledges collected through the end of the weekend, and over $2 million pledged overall. Efforts are ongoing to raise additional funds to retire debt and complete planned construction, with over $350,000 raised through the end of January 2016.
For more information, visit the links below, orcontact our co-chairs: Sandy Gilbert '63, Doug Levens '92, and Ralph Wilhelm '67.