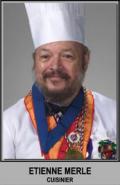 Etienne Merle was born on July 8, 1944 into a family that already possessed a rich history of excellence in the culinary arts. In fact, Etienne would go on to become a fifth generation chef. En route to his career as a chef, Etienne graduated in 1969 from a "7-year bachelor program" in the Hotel Management School of Cornell University. Etienne became engaged in 1973 and married his wife Marcia in 2002.
While attending the Hotel School, Etienne also worked in restaurant management for various enterprises, including passenger ships and large-scale hotels. In 1962, he began working in a Parisian restaurant called Relais Gastronomique. He returned to the American culinary scene in 1963 as he began working for the restaurant at the Hilton in New York. Some passenger ships on which he worked were the S.S. United States, the S.S. Independence, the S.S. Atlantic, and the S.S. Santa Luisa. From 1968 to 1970, Etienne worked for a hotel in Aruba called Divi Divi. After his stint in Aruba, Etienne returned to New York to do some teaching until 1971.
Etienne returned to Ithaca in 1971 along with two enterprising partners, one of whom was the owner of Divi Divi, and opened a four-star French restaurant called L'Auberge Du Cochon Rouge. With Etienne as its owner and chef for a period of 21 years, the restaurant achieved tremendous success and attained a distinguished reputation as one of the best restaurants in the area. Etienne also owned a restaurant in Syracuse called Pascal's from 1983 to 1995. Etienne later opened Valentine Café in Ithaca in 1999. In 2003, Etienne became the house chef for the Omicron Zeta chapter of the Lambda Chi Alpha fraternity at Cornell University, and in recognition of the close relationship he has developed with brothers of several generations, he was initiated as an honorary brother in 2008. After over a decade of service, he retired in 2014.
Etienne's accomplishments as a chef have not gone unnoticed by the culinary world. He serves as the President of the Groupe Américaine of the Académie Nationale de Cuisine. Etienne also serves as the Masons' Grand Representative from the Grand Lodge of France to the Grand Lodge of New York. Additionally, Etienne has his own rack-of-lamb, Jarret D'Agneau Braisée, and Braised Lamb Shank recipes in The Meat and Potatoes Cookbook among others.