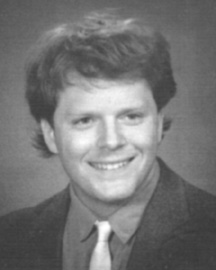 Mr. and Mrs. A. Carl Helwig of Devon, Pennsylvania have established a scholarship fund to benefit Lambda Chi's at Cornell in memory of their son, Michael Helwig '89 O-1390.
Brother Helwig was a National Merit finalist near the top of his graduating class at The Haverford School in Philadelphia. After some academic sidesteps, Michael settled on a neurobiology major. One of his professors would remark that he "asked all the important questions, and it was clear that he was not just like the other students . . . . He was excited, and his excitement showed." It was this excitement that Michael brought to all of his life pursuits whether it be school, friendships, or the outdoors. As his high school German teacher wrote, "He was a special combination of a demanding, highly-gifted mind and a down-to-earth, fun-loving human being."
His commitment to the outdoors was all-encompassing. He spent six boyhood summers in Northern Ontario at Keewaydin Camp both as a camper and as a counselor. These sojourns in the wilderness served as framework on which he built his adult beliefs in the simpler elements of existence. As an instructor in Cornell's outdoor education program, he led expeditions, and taught canoeing and environmental concerns to Cornell students.
Joining Lambda Chi Alpha, Michael found a group of friends who, he said, along with his two natural brothers, would be his "family for life." One of his brothers wrote of him, "He challenged conventional methods and showed me how many ways there were around a problem. He changed my life for the better." He "gave freely of himself," one brother said, adding, "His enthusiasm never flagged. He . . . would spend hours patiently teaching anyone who asked for his help."
After graduating from the College of Arts and Sciences in 1989, brother Helwig decided to work for a while before graduate school and joined Andersen Consulting, delighting in the diversity of work. A co-worker praised his "insightful, sharp, quick wit . . . that allowed people to warm up to him quickly," and "his intelligence and his inclination for warmly embracing people on a social level."
Michael had a humorous, creative mind, with a real talent for creative writing, gourmet cooking, and woodworking. He had a wide range of interests; "he worshipped the Grateful Dead and could outtalk the biggest stereo buff in the house" reported one brother. "He was truly interested in everything and everyone," added another.
Michael was killed November 24, 1991 in an automobile accident. The Michael Helwig Scholarship Fund will provide financial assistance to a member of Lambda Chi Alpha at Cornell who demonstrates a great love for the outdoors or a true concern for his fellow man.
Alumni and others who wish to contribute may contact the Office of University Development, 55 Brown Road, Ithaca, NY 14850.